SMM C/P CME Event
4 May 1986 --- Day of Year (DOY): 124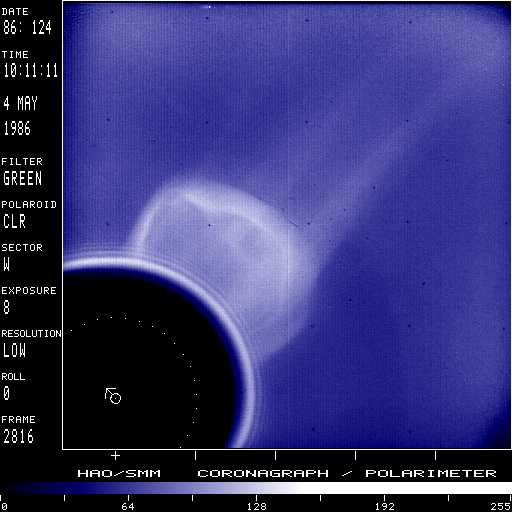 Part one of a two part event: a bright loop/cavity with complex core. Solar north is toward the upper left as indicated by the arrow drawn into the occulting disk; the dotted circle marks the solar photosphere.
Event Description
Could be two events:
1. Bright loop/cavity with complex core superposed on streamer(s?). Becomes flat-topped. Streamer is disrupted. Some streaking in data.
2. Faint, flat-topped, irregular loop(?)/cavity. Deflections.
Event Properties
Start/Stop Times in SMM Coronagraph Field of View: May 04 10:11~17:19
Central Position Angle, 1st event: ~275 degrees
Central Position Angle, 2nd event: ~253 degrees
Width (in degrees), 1st event: ~070
Width (in degrees), 2nd event: ~030
Speed (in km/sec): 750 <--- Outer Loop, 1st event
Speed (in km/sec): 699 <--- Outer Cavity, 1st event
Speed (in km/sec): 161 <--- Core in Cavity, 1st event
Speed (in km/sec): 1039 <--- Loop, 2nd event
Image List:

May 04, 1986: 5:46 UT

May 04, 1986: 9:26 UT

May 04, 1986: 10:11 UT

May 04, 1986: 10:14 UT

May 04, 1986: 10:29 UT

May 04, 1986: 10:40 UT

May 04, 1986: 11:01 UT

May 04, 1986: 12:03 UT

May 04, 1986: 12:36 UT

May 04, 1986: 13:19 UT

Detailed information on all SMM mass ejections is available in the SMM Catalogue of Coronal Mass Ejections