SMM C/P CME Event
14 September 1988 --- Day of Year (DOY): 258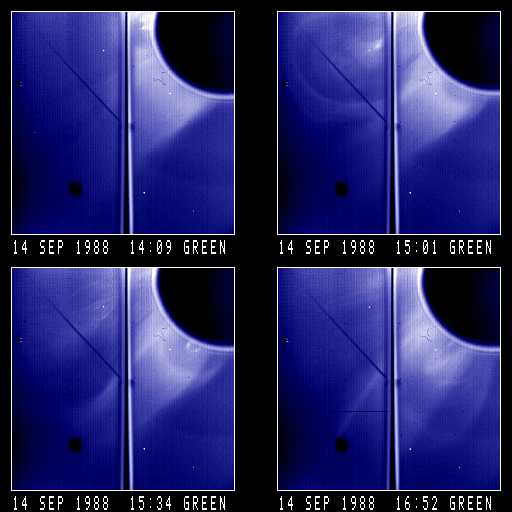 Two coronal mass ejections, both with erupting prominences, were recorded within one hour of each other by the SMM Coronagraph. The first ejection is visible at the very top of each frame; the second ejection occurs to the south of the first and disrupts the coronal `helmet' streamer. Solar north points to the upper left of each frame and the east equator points toward the lower left corner of each frame.
Event Description
EVENT #1
Loop/cavity with highly structured (prominence) core. Loop is `light-bulb' shaped from 15:04 until 15:37 UT. Big deflections. Loop/cavity and core are out of the field of view by 16:29. A series of ejections of irregularly shaped material follow at 16:54, 20:02 and 01:00 UT.
EVENT #2
Loop/cavity with highly structured, loop-shaped (prominence) core in streamer. Deflections. Streamer is blown out.
Event Properties
EVENT #1:
Start/Stop Times in SMM Coronagraph Field of View: September 14 13:46 to September 15 ~02:34
Central Position Angle: 082 degrees
Width (in degrees): 055 degrees
Speed (in km/sec): 506 <--- Cavity
Speed (in km/sec): 169 <--- Core (prominence)
EVENT #2:
Start/Stop Times in SMM Coronagraph Field of View: September 14 15:04 to 19:37
Central Position Angle: 126 degrees
Width (in degrees): 063 degrees
Speed (in km/sec): 390 <--- Cavity
Speed (in km/sec): 115 <--- Core (prominence)
Image List:

September 14, 1988: 13:44 UT

September 14, 1988: 14:09 UT

September 14, 1988: 15:01 UT

September 14, 1988: 15:34 UT

September 14, 1988: 16:27 UT

September 14, 1988: 16:52 UT

September 14, 1988: 17:16 UT

September 14, 1988: 18:09 UT

September 14, 1988: 18:42 UT

September 14, 1988: 19:35 UT

September 14, 1988: 20:00 UT

September 14, 1988: 20:24 UT

September 14, 1988: 21:17 UT

September 14, 1988: 21:50 UT

September 14, 1988: 22:43 UT

September 14, 1988: 4 pictures
Detailed information on all SMM mass ejections is available in the SMM Catalogue of Coronal Mass Ejections